BM Supermercados is a chain of local supermarkets belonging to the Uvesco Group that helps its customers avoid travel by car and large shopping centers.
About BM Supermercados
Its business model is developed to reach small towns and neighborhoods offering quality, fresh and seasonal products with daily order and service and more than 4,000 assortment references, adapted to the reality of each store.
The team recently developed its mobile application to manage the loyalty of its users, moving its focus from the physical card to the use of the App for the promotion of offers and discount coupons.
Additionally it moved its focus for the communication of the physical channel focused almost 100% in the generic catalog to the communication of the offers in a personalized way through the App.
This change of focus frees BM Supermarkets from the recurring cost of a low-performance general communication to a much more personalized communication for its customers and with a greater redemption of offers, resulting in greater control of the benefit of each promotion.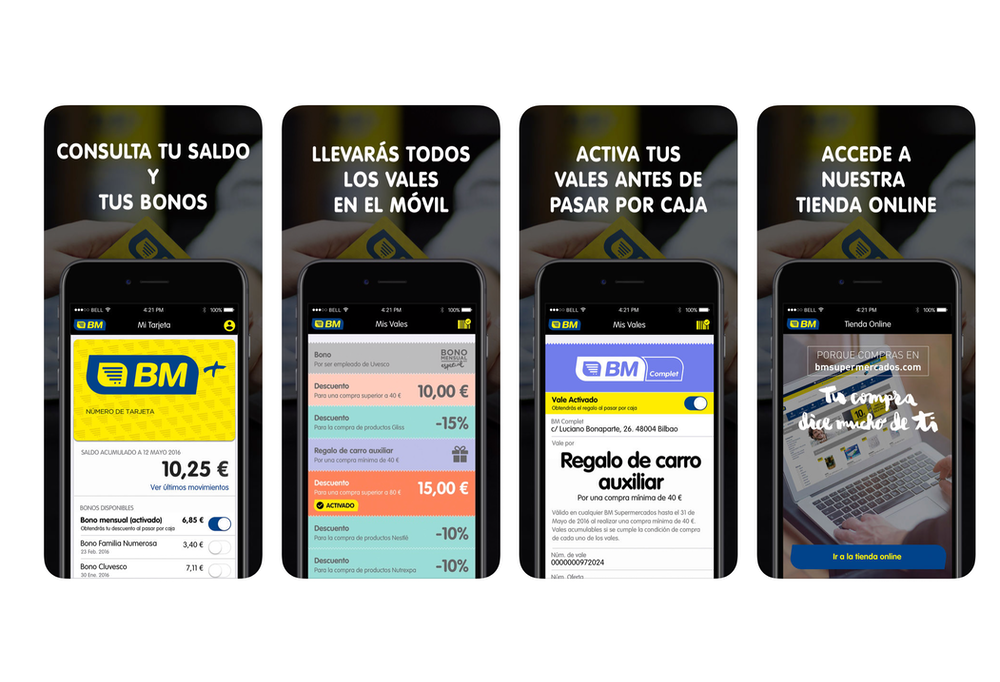 The App
BM Supermarkets in an application that allows you to manage all the advantages of the BM loyalty card used by more than 100,000 customers.
The goals
Transition of clients from the physical loyalty card to the virtual card of the App
Generate personalized communication of promotions and offers based on the behavior of users in the App and external channels such as supermarkets and online store
The focus
Understand customer behavior to identify areas of focus and product improvement.
Deploy personalized communications by user in different Push & In-App formats to turn the App into the main communication channel with users.
Develop precise KPIs to measure application performance (User Recruitment, Retention and Redemption of promotions)
Achievements obtained with ARDE
Customer transition
BM Supermercados has increased the number of customers using its App from 28,000 in 2017 to 118,000 in the first half of 2019 (x4)
The number of active users (MAUs) has grown from 30,000 in 2018 to 45,000 in the first half of 2019 (x1.5).
Custom communication
BM Supermarkets has improved the deliverability of its communications up to 99%. Monthly, it sends more than 700,000 personalized messages, of which more than 694,000 are delivered to its customers' devices.
This personalized communication through EMMA-enabled formats gives them an open ratio of 22.32% with more than 40% access to the promotion.